Podcast: Play in new window | Download (Duration: 28:00 — 20.8MB)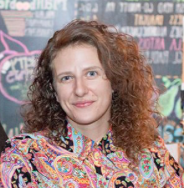 Since becoming part-owner of The Back Door, Nicci Boroski, familiarly known as Nicci B, has become a local leader in the colorful, diverse community known by the five initials: LBGTQ. But, as Nicci would be the first to acknowledge, those five initials hardly begin to cover the the entirety of the wide number of choices and identities people are feeling free to make and adopt in the 21st Century. Nicci B plays host to all of them. A visual artist as well as a gender-barrier-cracking performer, she talks about the joys and challenges of being a proud cictzen of the queer world.
[This episode originally aired Thursday, April 26, 2018]
Michael Glab goes one-on-one with Bloomington's most fascinating people every Thursday at 5:30pm. Tune in for a bonus feature, Big Talk Extra, every Monday on the Daily Local News at 5:00pm for added chat from the previous week's show.