Podcast: Play in new window | Download (Duration: 28:00 — 24.3MB)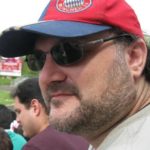 It started out as a fun project for the family. Soon, Derek Richey's photographic remembrances of bygone Bloomington became a full-fledged obsession. The co-founder of Bloomington Fading, co-author of Bloomington: Then and Now, and board president of Bloomington Restorations Inc., Richey talks about finding pavement where historic buildings once stood when he arrived in town in 1991. As a member of the city's Historic Preservation Commission, he now helps us keep our architectural treasures.
[This episode originally aired, Thursday, May 17, 2018.]
Michael Glab goes one-on-one with Bloomington's most fascinating people every Thursday at 5:30pm. Tune in for a bonus feature, Big Talk Extra, every Monday on the Daily Local News at 5:00pm for added chat from the previous week's show.