Podcast: Play in new window | Download (Duration: 28:00 — 20.3MB)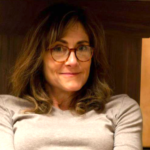 She taught herself how to make wood furniture as a young expatriate in England and then went to furniture- and cabinet-maker school on a dare. Now in Bloomington she's a nationally-renowned creator of built-in and stand-alone wooden household furnishings. She has authored several books, including The Hoosier Cabinet in Kitchen History, A Home of Her Own, Making Things Work: Tales from a Cabinetmakers Life, and English Arts & Crafts Furniture.
[This episode aired Thursday, June 7, 2018.]
Michael Glab goes one-on-one with Bloomington's most fascinating people every Thursday at 5:30pm. Tune in for a bonus feature, Big Talk Extra, every Monday on the Daily Local News at 5:00pm for added chat from the previous week's show.