Podcast: Play in new window | Download (Duration: 28:01 — 19.4MB)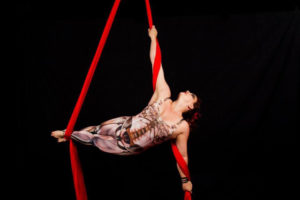 She hangs from bolts of material and assumes positions testing the limits of both her artistic vision and her own body. The next night she may be seen performing as Jaimee Spangle, a glam rock star who doesn't know yet that he's washed up. Taking the stage as either an aerial silks acrobat or one of the hottest drag kings this town has seen, Sue Rall is becoming a must-see performer. She explains the nuts & bolts of both of her performance disciplines as she joins Michael Glab on this week's edition of Big Talk.
Michael Glab goes one-on-one with Bloomington's most fascinating people every Thursday at 5:30pm. Tune in for a bonus feature, Big Talk Extra, every Monday on the Daily Local News at 5:00pm for added chat not included in the previous week's show.