Podcast: Play in new window | Download (Duration: 28:00 — 21.2MB)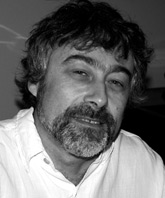 Jeffrey C. Isaac is a noted observer of the American and the global political scenes. He's been the editor of the respected journal, Political Science, has written numerous books, and his articles appear often in news magazines and academic publications. The Indiana University professor is outspoken, taking to social media on occasion to voice his displeasure with leaders and developments. And he's a jazz musician, the pianist for the Post-Modern Jazz Quartet. He speaks with Michael Glab about his boyhood on the streets of Queens, New York, his feelings about the First Amendment, and what exactly he thinks of Donald Trump on this week's edition of Big Talk.
Michael Glab goes one-on-one with Bloomington's most fascinating people every Thursday at 5:30pm. Tune in for a bonus feature, Big Talk Extra, every Monday on the Daily Local News at 5:00pm for added chat not included in the previous week's show.