Podcast: Play in new window | Download (Duration: 28:00 — 19.8MB)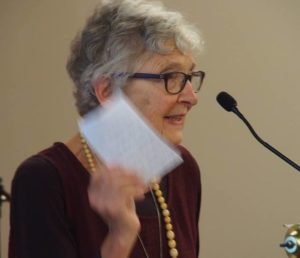 She is the grande dame of Bloomington politics. Charlotte Zietlow jumped into the political fray nearly fifty years ago when she and a rag-tag band of newcomers took over City Hall in the 1971 election. Since then she's pushed for programs and ordinances as both a City Council member and a Monroe County Commissioner. She tells the story of how she and her cohorts shocked Bloomington by flipping City Hall from Republican to Democrat in that storied election as she joins Michael Glab on this week's edition of Big Talk.
Michael Glab goes one-on-one with Bloomington's most fascinating people every Thursday at 5:30pm. Tune in for a bonus feature, Big Talk Extra, every Monday on the Daily Local News at 5:00pm for added chat not included in the previous week's show.