Podcast: Play in new window | Download (Duration: 57:12 — 52.4MB)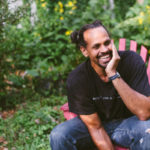 On Tuesday, August 9
th
, poet Ross Gay took the stage at the
Bloom Magazine
Book Club to recite some of his poems and talk about his writing process. Ross Gay is an award-winning poet who is housed here in Bloomington. Gay was reciting poems from his book entitled
Catalog of Unabashed Gratitude
. He is a founding member of the Bloomington Community Orchard, and he also is a professor at IU. Gay's
Catalog of Unabashed Gratitude
is the winner of the 2015 National Book Critics Circle Award and the 2016 Kingsley Tufts Poetry Award. He has written two other books,
Against Which
and
Bringing the Shovel Down
. He is also the founding editor of the Online Sports Magazine
Some Call if Ballin'
. We begin the event with Ross being introduced by Malcolm Abrams, who is the editor and publisher of
Bloom Magazine
.
RELATED
Ross Gay's Website
Some Call it Ballin'
Book by Local Poet Ross Gay Selected as Finalist for the National Book Award by Brian Hartz
PHOTO CREDIT: Natasha Komoda | www.natashakomoda.com