Podcast: Play in new window | Download (Duration: 28:00 — 23.5MB)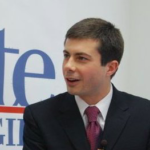 The two-term mayor of the far-northern Indiana city has announced he will not run for reelection in 2019. Buttigieg gained national attention when he ran for Democratic National Committee chair in 2017 and was even mentioned as a potential party nominee for president in 2020. His decision not to seek a third term has led to speculation he will announce a run for another, higher office soon. He visited Bloomington in June, 2017, and Big Talk was there.
Host Michael Glab goes one-on-one with Bloomington's most fascinating people every Thursday at 5:30pm. Tune in for a bonus feature, Big Talk Extra, every Monday on the Daily Local News at 5:00pm for added chat from the previous week's show.