Podcast: Play in new window | Download (Duration: 9:55 — 9.1MB)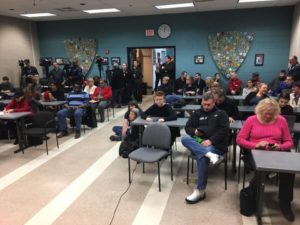 Residents of Bloomington spoke out this afternoon against the purchase of an armored car by city police. Dozens of reporters, local government officials and concerned citizens gathered in the Bloomington Police Department Headquarters at noon, to ask questions of BPD Chief Mike Diekhoff.
Their concerns were largely that the $225,000 armored vehicle would be used against protesters, and represented an increasing militancy among police forces nation-wide. Diekhoff repeatedly defended the purchase of the vehicle, stating it would offer protection for law enforcement, who routinely respond to calls featuring heavily-armed individuals in Monroe and surrounding counties. Diekhoff highlighted the importance of such a vehicle in assisting law enforcement in responding to a hostage crisis as recently as November, when an armed man took his wife and her children hostage.