Podcast: Play in new window | Download (Duration: 59:01 — 40.0MB)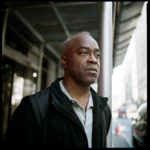 "[Burnett] really invites us, the viewer to, not take a position, but to say, this is what it is, do you wanna do anything about it?…In the banality of oppression, the every day reality of oppression, a toll, a profoundly tragic toll, is demanded of black people." – Michael Martin
"His filmmaking is so quiet. It's a deeply reflective cinema; it's cinema that focuses on characterization, that really gives characters the time and space to demonstrate their humanity. Sadly, that is rarely the way in which black characters are treated in film." – Jacqueline Stewart
We've packed this show to the brim. Last September Jim Naremore came on Interchange to discuss several films by Charles Burnett. Jim had just published his book Charles Burnett: A Cinema of Symbolic Knowledge and Burnett had been awarded an honorary Oscar, or a Governor's Award, by the Academy of Motion Picture Arts and Sciences. Because so much that Burnett has made is so good, and so unseen, we present a part two. Jim starts us off with why Burnett is so important as an artist.
Then we're joined by Michael Martin, editor-in-chief of Black Camera: an International Film Journal, and professor in the Media School at Indiana University, who values Burnett as an artist who shows the banality of oppression. Michael is followed by Jacqueline Stewart, author of Migrating to the Movies: Cinema and Black Urban Modernity and professor in the Department of Cinema and Media Studies at the University of Chicago; and then comes Jonathan Rosenbaum, long-time film critic for the Chicago Reader, now retired, and author of thirteen books, most recently, Goodbye Cinema, Hello Cinephilia: Film Culture in Transition.
We'll end with a conversation with the artist himself, Charles Burnett.
Films covered tonight are:
"The Horse"
"Killer of Sheep"
"Glass Shield"
"When It Rains"
Our music is from John Handy's Recorded Live at the Monterey Jazz Festival, released in 1966. Its three tracks run underneath the whole program with the exception of a bit of conversation with Burnett regarding Paul Robeson, for which we used Robeson's The House I Live In.
RELATED
The Troublesome Films of Charles Burnett – Interview with James Naremore
Burnett's Governors Award acceptance speech
Ava DuVernay honors Charles Burnett at the 2017 Governors Awards
Milestone: Killer of Sheep
CREDITS
Producer & Host: Doug Storm
Assistant Producer: Rob Schoon
Studio Engineer: Bryce Martin
Executive Engineer: Wes Martin