Podcast: Play in new window | Download (Duration: 59:17 — 54.3MB)
The Fifth Symphony opens very famously with four memorable notes. Beethoven was asked what he meant by this opening and he's said to have replied, "Thus fate knocks at the door." Morse Peckham suggests we take Beethoven at his word, that we take him seriously.
In a book published in 1962, Beyond the Tragic Vision, Peckham said this of the Fifth Symphony,
It was written in the culturally crucial years of 1805-07, when Wordsworth was completing The Prelude, Goethe finishing Part I of Faust, and Constable and Friedrich making their breakthrough into a new pictorial vision. The Fifth Symphony gave Beethoven a very hard time indeed. If it is the greatest symphony ever written, it is so because it has within it the inexhaustible freshness of an entirely new musical world….For the display of aspects of the self completed and stabilized by its social role, Beethoven gives us the terrible struggle of the self to come into existence.
Thus Romanticism…founded on the discovery that the so-called truths of The Enlightenment, so glaringly exposed by the terrors of the French Revolution, were as false as the worldview they had deposed. Romanticism glares into that abyss where all value is arbitrary and constructed and attempts to make something out of it.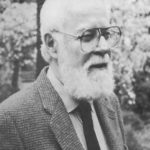 Morse Peckham is the author of numerous books and articles including Beyond the Tragic Vision, Victorian Revolutionaries, The Birth of Romanticism, The Romantic Virtuoso, Explanation and Power, a trilogy of essay collections: The Triumph of Romanticism, Romanticism and Behavior, and Romanticism and Ideology. He also edited a variorum text of Darwin's The Origin of Species.
Morse Peckham was born in 1914 in Yonkers, New York, and spent the bulk of his academic and theorizing life at the University of Pennsylvania, from 1949 (granted tenure in 1952) until he left for the University of South Carolina in 1967 and was there until his retirement in 1980. He died in 1993 after suffering a series of strokes which had begun in 1990.
GUEST

David Dennen, an independent scholar, editor, and translator living in Taipei. He has a PhD in music from the University of California, Davis. He has written extensively on the music and literature of India and is currently editing a volume on the relationship between music and literature in Asia. He also has a longstanding passion for the writings of Morse Peckham and is writing a series of essays about and inspired by Peckham.
RELATED
The Quotable Morse Peckham
MUSIC
The Symphony No. 5 in C minor of Ludwig van Beethoven, Op. 67
The "Ride of the Valkyries," the beginning of act 3 of Die Walküre, by Richard Wagner
Symphonic Etudes, Robert Schumann (etudes 6-8), performed by Sviatoslav Richter
"Prelude to the Afternoon of a Faun," Claude Debussy, The London Symphony Orchestra conducted by Leopold Stokowski
"Pierrot Lunaire," Arnold Schoenberg, performed by Jane Manning (sprechstimme) and Simon Rattle, conductor, the Nash Ensemble (Part One, Mondestrunken & Columbine)
CREDITS
Producer & Host: Doug Storm
Board Engineer: Jonathan Richardson
Executive Producer: Joe Crawford