Podcast: Play in new window | Download (Duration: 28:00 — 22.2MB)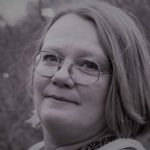 Like many Americans, Denise Valkyrie has struggled to make ends meet and has experienced devastating health care expenses. She works multiple jobs to keep her family afloat. These experiences give her a perspective, she says, the current city council lacks. Currently administrative support coordinator for WFIU/WTIU and Indiana Radio & Television Services as well as an Uber driver, she has worked on her bachelor's degree for 20 years and hopes to graduate in December. Valkyrie helped organize the Indiana contingent's trip to the 2017 Women's March on Washington as well as the 2018 Women's March in Indianapolis.
Host Michael Glab goes one-on-one with Bloomington's most fascinating people every Thursday at 5:30pm. Tune in for a bonus feature, Big Talk Extra, every Monday on the Daily Local News at 5:00pm for added chat from the previous week's show.