Podcast: Play in new window | Download (Duration: 28:00 — 24.1MB)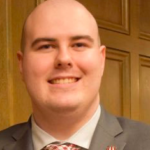 One of two mid-20s candidates for city council in this year's municipal election, Ryan Maloney also is one of two Indiana University students hoping to gain a seat. Born in Australia and raised in Nevada, Maloney has worked as a bus driver since moving to Bloomington to study at SPEA. He hopes to become a lawyer, working in the interest of people who've suffered sexual harassment and abuse. As a student at a Nevada community college, Maloney helped defeat a proposed law to allow concealed carry on the state's campuses.
[This episode originally aired Thursday, April 25, 2019.]
Host Michael Glab goes one-on-one with Bloomington's most fascinating people every Thursday at 5:30pm. Tune in for a bonus feature, Big Talk Extra, every Monday on the Daily Local News at 5:00pm for added chat from the previous week's show.