Podcast: Play in new window | Download (Duration: 17:53 — 16.4MB)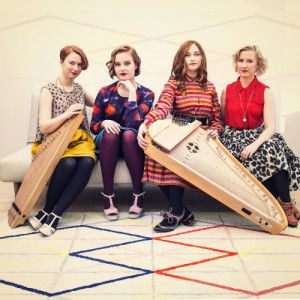 Kardemminmit joins WFHB's 2015 Lotus Live sessions for an exclusive performance and interview, live from The Blockhouse!
The women of Kardemimmit sing and play the Finnish national instrument – the kantele. If you're new to the kantele, think zither or dulcimer: the quartet has mastered both the 15-stringed and 38-stringed varieties. The distinctive sound of this plucked acoustic instrument and their delicate, tight vocal harmonies in a style of singing known as "reki" make Kardemimmit a standout contemporary Nordic ensemble.
SONG
1. Tulikipuna/Origin of Fire
2. Toinen tähti/The Other Star
3. Kun mun kultani tulisi/I Wish My Darling Came To Me
Hosted by Adriane Pontecorvo
Engineered by the Blockhouse
Executive Producer is Jim Manion