Podcast: Play in new window | Download (Duration: 24:25 — 22.4MB)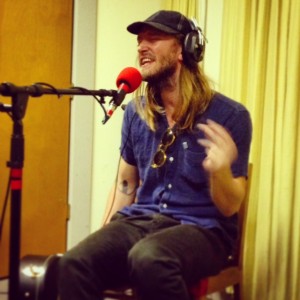 The artist known as crash paid a visit to the WFHB studios while on tour with the Communion clubnight series. An erstwhile member of the Magnetic Zeroes, crash recently released his solo debut, Hardly Criminal, and its lead single "Motional Animal" has been a hit among our volunteer deejays.
A Louisiana boy now living in California, crash brings a distinctive busker charisma to his folky, funky soul sound. Also impressive was his current touring band, assembled just a week earlier, which he dubbed the "Holy Trinity" and whose backing vocals beautifully supported crash's powerful "Cajun Prince" falsetto.
Hosted by Katie Moulton
Engineered by Jim Lang & Dan Withered
Produced by Katie Moulton
Executive Producer is Jim Manion
Originally aired on September 9, 2014